As featured in PA Environment Digest Blog and PennWatch.
DEP Recognizes Rail Management Services For Replacing Diesel Engines To Improve Air Quality At Franklin County Railyard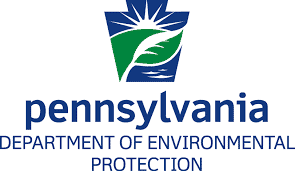 RMS replaced five diesel yard hostlers – semi-tractors used to move containerized cargo – with five electric yard hostlers at the CSX Intermodal terminal in Chambersburg.
A $1 million Driving PA Forward grant made the replacement project possible.
"By replacing old diesel-engine trucks with zero-emission electric trucks, Rail Management Services has eliminated a source of nitrogen oxide pollution in the Chambersburg area, helping residents breathe healthier air," said DEP Secretary Patrick McDonnell. "They're also helping to lower greenhouse gas emissions, while saving on fueling costs, two more reasons for companies' growing interest in cleaner running vehicles for daily industrial use."
The terminal is owned by CSX, a national leader in rail-based freight transportation. Pacific Rail Services, a division of RMS, oversees the intermodal loading and unloading operation at the facility.
The OrangeEV all-electric powered, zero-emission vehicles went into service in June 2021. On average, the five electric hostlers move a combined 500-600 shipping containers daily. The estimated emission reduction benefits from this project are:
NOx: annual = 6.16 tons; lifetime = 73.92 tons
PM10/2.5: annual = 1.585 tons; lifetime = 19.02 tons
Hydrocarbons: annual 0.6 tons; lifetime = 6.0 tons
CO: annual = 4.59 tons; lifetime = 55.08 tons
This project is expected to save approximately 50,000 gallons of diesel fuel each year.
"Rail Management Services strives to be the leader of alternative fuel opportunities within the intermodal industry," said RMS Vice President Ed Morgenthaler. "We currently have Orange EV electric hostling trucks at six different locations and have been approved for funding at two more locations this year. Our goal is to continuously integrate strategic economic opportunities, all the while reducing significant CO2 emissions. Working in conjunction with CSX and the Pennsylvania Department of Environmental Protection, we feel we have accomplished this at our Chambersburg facility with the purchase of our five electric hostlers."
The terminal is in an environmental justice area, defined by DEP as communities where 20 percent or more individuals live in poverty and/or 30 percent or more of the population are residents of color.
The Driving PA Forward Program aims to permanently reduce lifetime NOx emissions from mobile sources. To date, the program has awarded nearly $51 million in grants to 934 projects across eight funding programs.
The funding comes from the Commonwealth's $118.5 million share of the $2.95 billion national settlement with Volkswagen Group of America for cheating on U.S. Environmental Protection Agency emissions tests.
Published: March 16, 2022/PA Environment Digest Blog/ and March 16, 2022/PennWatch/