Battery Specs and Charging
Supporting single shift to 24×7 operations
From single shift to 24×7 operations, Orange EV electric terminal trucks are operating 24+ hours on a single charge. Our team works with you to find the most cost-effective charging solution and truck configuration to meet your site-specific demands and duty cycles.
T-Series Batteries
Orange EV's lithium-ion batteries are sealed, maintenance-free, and can be charged at any time from any level. They are more robust and easier to manage than cell phone batteries or the lead acid batteries used in some forklifts.
Orange EV is now offering a 7.5 Year Battery Warranty with Increased Capacities for Q4 Deliveries!
Battery Pack Capacity Increases:
80 kWh  increased to 100 kWh
160 kWh increased to 180 kWh
Warranties extending to 7.5 Years or 220,000 kWh/396,000 kWh of use, giving you long-term confidence in America's #1 Selling EV Yard Trucks! Contact us for details.
Outstanding Orange EV Uptime Performance
Improvements every year, with 2020 and 2021 builds at or above 99% Uptime!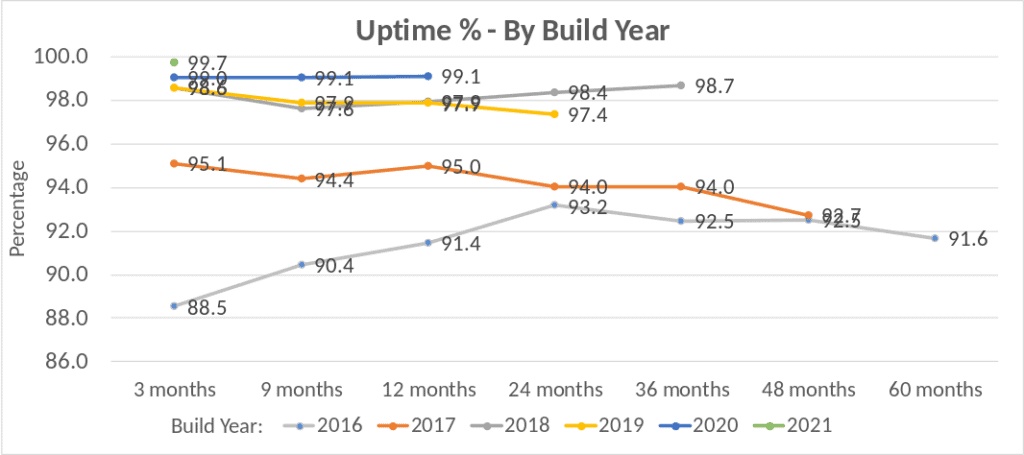 Time to Charge
Batteries can charge fully in as little as two (2) hours.
Opportunity Charging
Any time your Orange EV truck is parked is the perfect time to charge! Trucks can be plugged in to recover charge throughout the day, taking advantage of routine downtime during breaks, lunch, and shift changes.
When to Charge
Most fleets routinely recover battery throughout the day by 'opportunity charging. By keeping the battery at a higher charge, you will be able to reduce overall charge time. When starting at a higher charge (e.g. 50% still on the battery) it takes about half the time to obtain a full charge.
Charging stations
Right sizing the number of charging stations you need on-site is one more way Orange EV helps you save money!
Charging stations charge one truck at a time and can serve multiple trucks by rotating as needed. So, instead of a 1:1 ratio of charging stations to trucks, many Orange EV enabled sites install one station for every two or three trucks.
Electrical Infrastructure
Every site's electrical capacity is different, although most already have what's needed for their initial Orange EV trucks. Our team works with your facility management team and electricians to understand what's available and to identify the best possible charging solutions.