Operate safer trucks
Deploy safer, healthier trucks preferred by drivers and management alike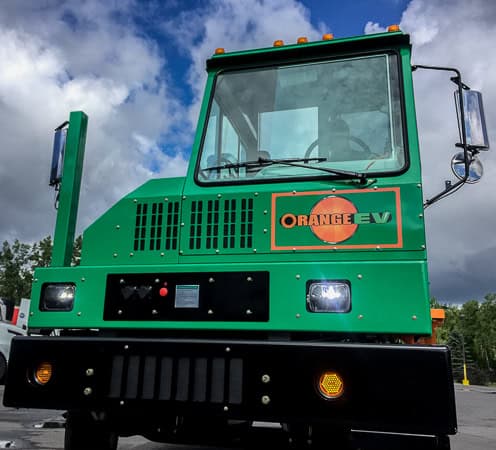 Orange EV trucks are safer for operators, technicians, site personnel, and the surrounding community. Orange EV's technology represents an innovation over existing electric-powered Class 8 vehicle systems, delivering increased safety and energy efficiency.  Add the comfortable, emission-free environment and it's clear why Orange EV trucks are preferred by drivers and management alike.
A few of the many health and safety benefits of Orange EV's pure-electric trucks:
Lower voltage
Orange EV trucks run on voltages less than 120V DC (direct current) which is significantly lower and safer than the 350V DC to 450V DC used by other vehicle manufacturers. Generally safer than AC (alternating current), 120V DC is lower than voltages commonly found in residential homes.
Reduced noise, heat, and vibration
Orange EV's electric power train generates much less noise, heat, and vibration which:
Creates driver-friendly work conditions conducive to reduced fatigue, safety incidents, and driver turnover

Reduces distraction (e.g. no more vibrating mirrors while backing trailers) improving control

Enables fleets to operate more peacefully in urban or residential environments
Emission-free
Orange EV's T-series are emission-free, eliminating the hazards associated with inhaled diesel emissions thereby safeguarding personnel.  Also, with no emissions and reduced noise, Orange EV trucks can be safely used indoors.
Better truck control
All of Orange EV's electric trucks have regenerative braking which provides finer control of the vehicle acceleration and deceleration and also:
Enables single-foot control, eliminating the need for the "2-footed" simultaneous operation of accelerator and brake

Delivers a smooth, no-shift deceleration
Reduces stopping distance and stopping time
Provides rolling resistance (aka "hill hold") for key-on trucks, even when neither accelerator nor brake pedal are engaged
Fewer spills, slips, injuries, and fines
With no diesel, motor oil, or glycol, liquid spills are rare.  This eliminates common sources of slips and injury and minimizes the costs associated with spill readiness, cleanup, and fines.
Effective, efficient environmental controls
Drivers enjoy heating in the winter and cooling in the summer provided by systems that respond immediately and deliver maximum output within seconds. 
Seatbelt interlock
Orange EV's optional ignition lock prompts drivers to engage the seatbelt.