EXTRA:  See this Executive Interview with Nick Chase regarding Bolthouse Farms' Orange EV deployments. Nick shares benefits, potential obstacles, lessons learned, and advice for asset managers considering electric trucks.
Nick Chase, Asset and Administration Manager for Bolthouse Farms, recently participated in the webinar "A Snapshot of Central Valley Fleet Regulations and Incentives". Nick shared case study data highlighting Bolthouse's experience operating three Orange EV pure-electric terminal trucks for more than two years, since April 2018.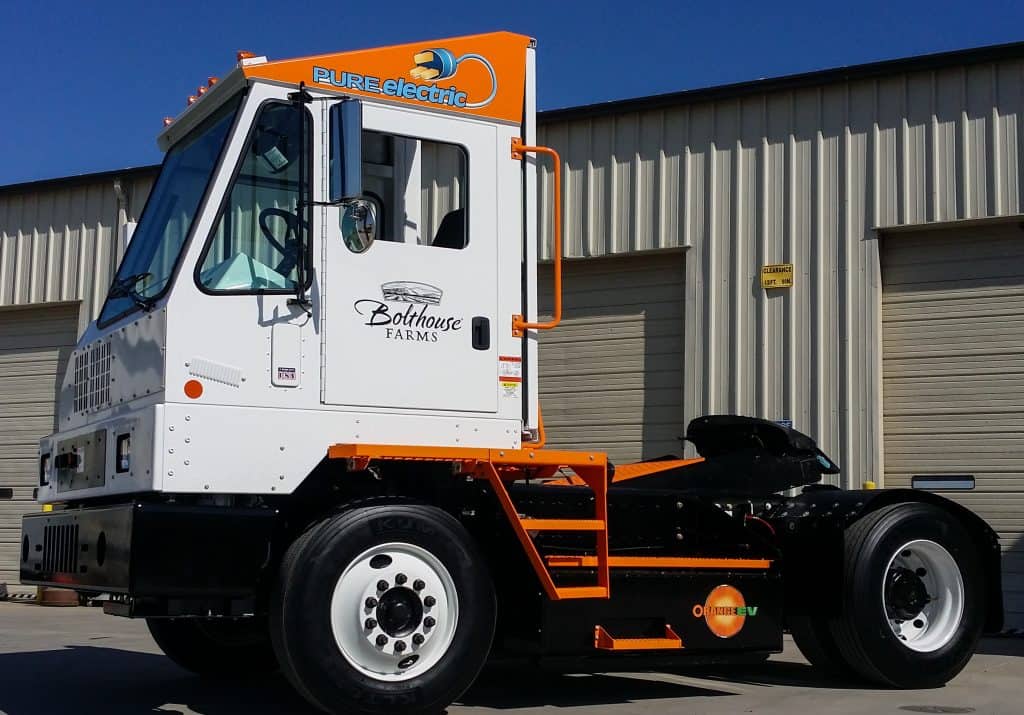 Bolthouse recently re-ordered and deployed two more Orange EV terminal trucks (aka shuttle trucks or yard trucks) for a total of five on site. In the webinar, Nick shared that three more Orange EV electrics are budgeted for the next 12 months and they hope to reach a total of 15.
As noted in this Freight Waves article, Bolthouse's Orange EV electric shuttles had 75% less downtime and 80% less in repair and maintenance costs compared to diesel:
Reduced downtime, tracked over 2-year period:
• 261 hrs/yr (diesel) vs. 67 hrs/yr (OEV electric)
• 75% reduction
Reduced maintenance and repair costs:
• $3.93/hr (diesel) vs. $0.78/hr (OEV electric)
• 80% reduction
Nick Chase commented:
"These costs are based on the Bolthouse internal labor rate, paying our own employees. If you operate a fleet and hire out maintenance, obviously it's going to cost you more, so the savings may add up to more."
Nick addressed some of the challenges Bolthouse faced, stressing that fleets do their research on the manufacturer and view them as a partner. He said,
"You will face challenges that are unique to your application, and with the right partner, the right manufacturer, you can overcome those challenges as they arise."
Internal skepticism was also challenging. The maintenance team in particular had to be convinced that an electric truck could hold up in their plant, which Nick described as a pretty harsh environment, processing more than five million pounds of carrots every day. Nick commented,
"I have to admit that they weren't convinced until we actually put them into service and they saw the reduced downtime, the reduced costs. But it wasn't just the performance that convinced them, it was the support of the manufacturer that we chose."
Before the April 2018 deployment, Bolthouse thought that charging could be an issue. They have a large fleet of electric forklifts that are sometimes driven until the battery is drained and not re-charged. To mitigate the potential challenge, Bolthouse installed the Orange EV charging stations in a location that fit into driver routines so drivers could plug in at breaks or lunch. Nick shared,
"It is a learning curve. You do have to remind them, especially at first, but they have adapted really well. It's really just a matter of education of your operators. And because they prefer the electric shuttles, they are incentivized to keep them charged."
Nick summed up his presentation stating,
"There were times when I had to be pretty passionate about putting these in our fleet. Now that we've had them in our fleet, and I have the numbers to back them up, the numbers speak for themselves. I don't have to argue with that passion anymore."
For our part, Orange EV is proud to partner with Nick Chase and Bolthouse Farms. We look forward to ongoing deployments to support Bolthouse operations.
Read the article in Freight Waves. To learn more or request a quote, contact Orange EV.