Deploying Orange EV electric eliminates diesel emissions, increases health and safety of essential personnel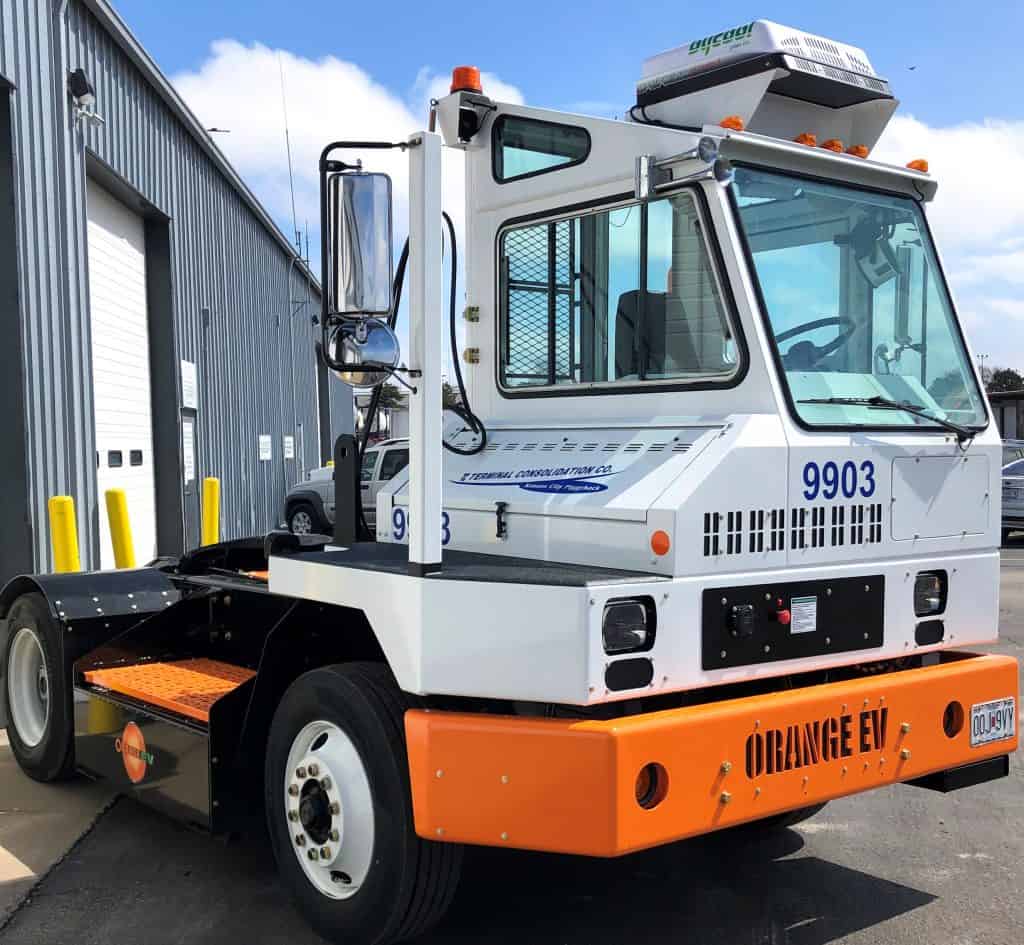 KANSAS CITY, MO, May 5, 2020 – Orange EV (OEV) and Terminal Consolidation Co. (TCC) today announced the deployment of an Orange EV T-Series pure-electric terminal truck to move shipping containers at TCC's Kansas City, Missouri, operation. With this deployment, Terminal Consolidation removed a 20-year-old diesel from operation and became the first fleet in the State of Missouri to deploy a 100% electric Class 8 truck.
"We applaud forward-looking fleets like Terminal Consolidation and are proud to not only deliver an emission-free truck, but also increase the environmental benefit by reusing the cab and frame from their 1999 diesel," commented Wayne Mathisen, Orange EV CEO. "Although most customers purchase new Orange EV electric trucks, fleets can further reduce costs by providing an older diesel for Orange EV to thoroughly remanufacture."
Terminal Consolidation, aka Kansas City Piggyback, operates several facilities in the Kansas City area serving the intermodal industry. Like other companies facilitating goods movement, TCC has been deemed essential and has continued operations. "We are always looking to take advantage of new technology, systems, and equipment to make us more efficient," said David Aubrey, Terminal Consolidation's General Manager, "but now more than ever, it's important to provide the best tools to keep our personnel safe and healthy."
According to figures from the EPA's Diesel Emissions Quantifier and Greenhouse Gas Equivalences Calculator, replacing one moderate-use Class 8 diesel truck with electric eliminates annual greenhouse gas emissions equivalent to an average passenger vehicle driven over 110,000 miles.
"Diesels have been the mainstay in our industry for years but the engines are loud, dirty, and fuel hungry," continued Aubrey. "With our new Orange EV truck, we expect to see fuel and maintenance savings while also providing a better environment for drivers and site workers."
Orange EV trucks have less noise and vibration than diesels, and regenerative braking reduces both stopping distance and stopping time. During the remanufacture (aka re-power) process, OEV eliminates the diesel engine, transmission, radiator, and systems for diesel fueling, exhaust, and emission control. With fewer, mostly maintenance-free elements, Orange EV's moderate-use fleets report annual savings of up to $20,000-$40,000 per truck on fuel, maintenance, repair, and downtime; heavy-use 24/7 operations can save up to $60,000 per truck per year. 
"We anticipate that going green with Orange EV will be better all-around: for the environment, for drivers, and for bottom-line operations," stated Aubrey.
About Terminal Consolidation Co. (TCC), aka Kansas City Piggyback
Terminal Consolidation Co., founded in 1973, provides dock, drayage, rail, and truck brokerage services. Known regionally as Kansas City Piggyback, TCC maintains its own fleet of vans, tractors, 20', 40', 45', 48', and specialized extendable triple axle and drop deck tank chassis.  At the 66-door dock in Kansas City, Missouri, Terminal Consolidation handles freight consolidation and distribution, cross-docking, blocking, cargo storage, and special projects. TCC is the area's designated U.S. Customs Devanning Station and has Interchange Agreements with all railroads, chassis pools, and major steamship companies in the Kansas City area.
About Orange EV
Kansas City based Orange EV is the leading OEM providing industrial fleets with heavy duty electric vehicle solutions that are proven to save money while being safer, more reliable, and preferred by drivers and management alike. Orange EV trucks meet the most rigorous duty cycles and 24×7 shift schedules while eliminating diesel fuel and emissions. Building both new and re-powered terminal trucks, Orange EV was the first and is still the only manufacturer offering 100% electric Class 8 vehicles that have been commercially deployed and re-ordered into container handling operations. Orange EV's commercially deployed trucks, chosen by more than 60 fleets across 14 states and Canada, have surpassed a combined 468,000 key-on hours and 1.4 million miles of operation.