With Orange EV electric, Alco eliminates diesel emissions and diesel-related waste while reducing downtime and operating costs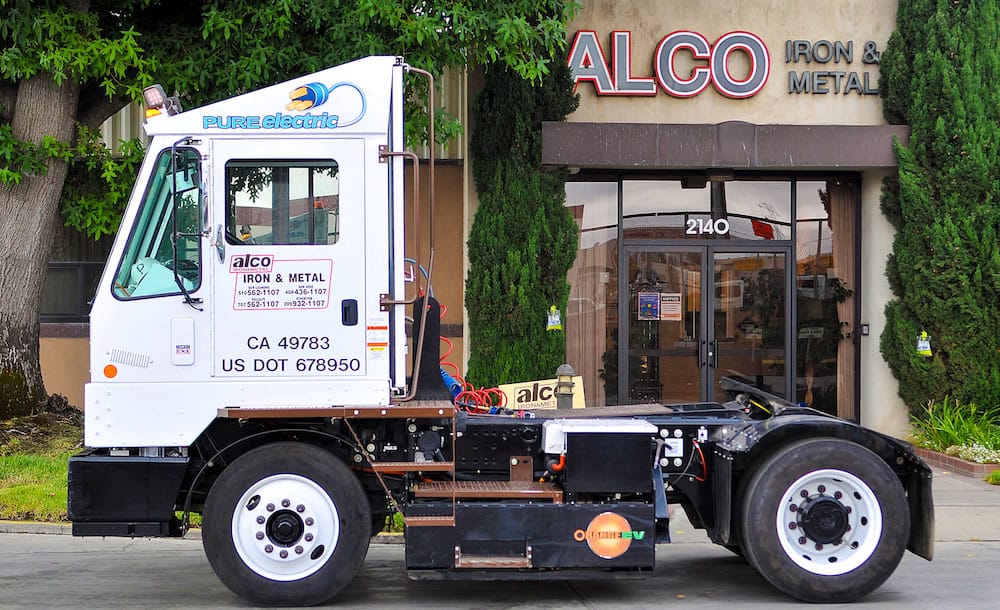 KANSAS CITY, MO and SAN LEANDRO, CA, November 2, 2020 – Alco Iron & Metal Company (Alco) and Orange EV today announced the deployment of an Orange EV T-Series pure electric terminal truck to move material at Alco's San Leandro metal recycling facility thereby expanding sustainability efforts with a more reliable truck that costs less to operate.
Alco Iron & Metal specializes in chemical-free metal recycling, preserving non-renewable natural resources and reducing waste in landfills. Over 60 years of operation, Alco has recovered millions of tons of materials that have been placed back into production. Deploying the Orange EV zero-emission Class 8 truck extends Alco's mission to promote stewardship of natural resources, eliminating diesel fuel and diesel-related waste streams.
"As a metal recycler, sustainability is central to Alco's mission. We take pride in refining our operations to recycle metal materials in the most economically and environmentally sensitive manner," said Kem Kantor, President of Alco Iron & Metal. "Deploying Orange EV all-electric is a natural fit, reducing our carbon footprint in an economically sustainable way. We've already had reduced downtime and expect to see reduced fuel and maintenance costs."
All Orange EV trucks are built to meet site-specific needs and duty cycles. For the San Leandro operation, Alco deployed the 80 kW T-Series equipped with standard charging using 240 VAC circuits. Since March, Alco's Orange EV truck has been working in a 2-shift operation moving 80,000-pound trailers between multiple large industrial yards. Replacing an Alco diesel with Orange EV electric will eliminate an estimated 506 tons of carbon dioxide – and more than 45,000 gallons of diesel consumption – over 10 years of operation.
"We appreciate the opportunity to support Alco Iron & Metal whose core operation, like Orange EV's, is environmentally focused," commented Kurt Neutgens, Orange EV Chief Technology Officer. "With more than 1.85 million miles of operation and counting, the T-Series has proven to meet site demands with safer, more energy efficient, zero-emission trucks. Orange EV offers the all-electric turnkey solution that industrial fleets require."
Alco utilized funding from California's Clean Off-Road Equipment Voucher Incentive Project (CORE) to purchase the Orange EV truck, and in ongoing operations, Alco will be able to generate quarterly income from the Low Carbon Fuel Standard (LCFS) marketable carbon credit program.
"We appreciate the continuing efforts of the California Air Resources Board and our local air district to develop and implement a variety of clean fuel and clean vehicle incentives programs," stated Kantor. "Their support helped drive this first deployment and will certainly aid our future plans for electric. We are currently exploring the opportunity to add another Orange EV truck to our fleet."   
About Alco Iron & Metal Company (Alco)
A family owned business since 1953, Alco Iron & Metal Company (Alco) began operation on a quarter acre in San Leandro, California. Now operating five locations on a combined 40 acres, Alco divisions include Scrap Metal Recycling, New Metal Sales, Metal Fabrication, and Demolition. Alco customers range from do-it-yourself homeowners and metal artists to manufacturers, major construction companies, domestic and overseas ferrous and non-ferrous mills, refineries, government agencies, and industrial giants.  Alco holds four contractor licenses (A, B, Demolition, and Fabrication) and employs a team of more than 220 skilled personnel including scrap metal buyers, processing crews, new and usable buyers, experienced sales staff, demolition experts, certified welders, and a complete fabrication shop staff.  Our employees are friendly, knowledgeable and always available to meet customers' needs.  Alco looks forward to working with you.
About Orange EV
Kansas City based Orange EV is the leading OEM providing industrial fleets with heavy duty electric vehicle solutions that are proven to save money while being safer, more reliable, and preferred by drivers and management alike. Orange EV trucks meet the most rigorous duty cycles and 24×7 shift schedules while eliminating diesel fuel and emissions. Building both new and re-powered terminal trucks, Orange EV was the first manufacturer offering 100% electric Class 8 vehicles that have been commercially deployed and re-ordered into container handling operations. Orange EV's commercially deployed trucks, chosen by more than 80 fleets across 15 states and Canada, have surpassed a combined 630,000 key-on hours and 1.85 million miles of operation.