Global food and beverage leader replaces Class 8 diesel terminal trucks with pure electric at its Ohio distribution center
KANSAS CITY, MO and GROVEPORT, OH, May 8, 2019 – Orange EV, Firefly Transportation Services, and The Kraft Heinz Company today announced the deployment of three (3) Orange EV T-Series pure electric terminal trucks to the Kraft Heinz distribution center in Groveport, Ohio.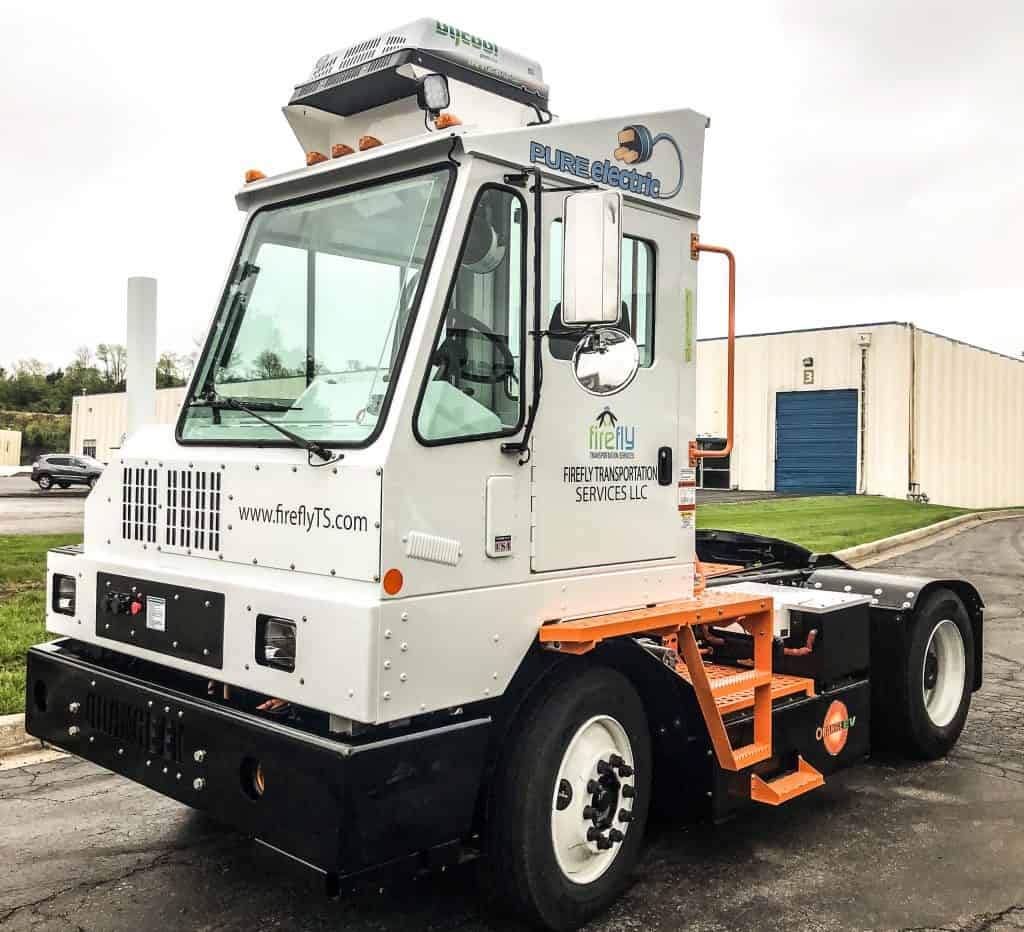 "As part of our commitment to Growing a Better World and improving our operational sustainability, we've partnered with Firefly Transportation Services to replace several of the diesel trucks in our Groveport, Ohio operation with electric ones," said Erin Mitchell, Head of North American Warehouse and Logistics for The Kraft Heinz Company. "Orange EV's battery-electric terminal trucks deliver 100 percent emission-free transportation services – a key driver of our progress toward a more sustainable and resilient supply chain."
Firefly will operate three (3) Orange EV pure electric terminal trucks to do the work formerly accomplished by five (5) diesels. For fuel diversity alone, one diesel will remain onsite and is expected to go unused in routine operations. With this deployment, Kraft Heinz plans to virtually eliminate diesel terminal truck emissions at their Groveport distribution center.
The electric truck solution was partially funded by the American Lung Association through a grant provided by the U.S. Environmental Protection Agency's Diesel Emissions Reductions Act (DERA) Program, secured and administered by the Clean Air Team at the American Lung Association (ALA)'s Springfield, Illinois office. The ALA has been a longtime leader in the fight for healthy air.
"Firefly Transportation Services is committed to delivering zero-emission yard management services to our customers while also dramatically increasing site productivity and cost savings", affirmed Mike Bohnstengel, one of the Firefly principal partners. "Utilizing data from our EV telematics systems, we provide advanced analytics and implement operational improvements that would not be achieved via traditional diesel units."
Mike Saxton, Orange EV's Chief Commercial Officer, confirmed, "This decision by Kraft Heinz demonstrates thoughtful mitigation of the extremely high operational, economic, and environmental costs of using diesel trucks. With this deployment, Kraft Heinz becomes the first site in Ohio to fully commit to pure electric in their heavy duty, Class 8 terminal truck fleet."
About The Kraft Heinz Company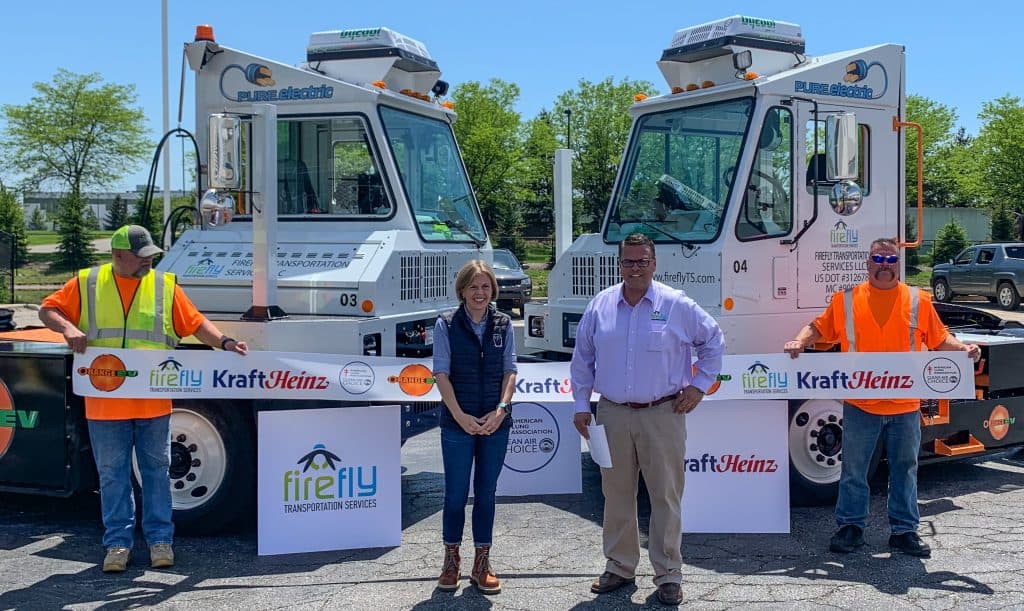 For 150 years, The Kraft Heinz Company (NASDAQ:KHC) has produced some of the world's most beloved products. Our Vision is To Be the Best Food Company, Growing a Better World. We are one of the largest global food and beverage companies, with 2018 net sales of approximately $26 billion. Our portfolio is a diverse mix of iconic and emerging brands. As the guardians of these brands and the creators of innovative new products, we are dedicated to the sustainable health of our people and our planet. To learn more, visit http://www.kraftheinzcompany.com/ or follow us on LinkedIn and Twitter.
About Firefly Transportation Services
Through state-of-the-art technology, Firefly Transportation Services is revolutionizing the spotting services industry. Firefly provides 100% electric trucks for yard management operations to create a safer and healthier work environment, support fleet sustainability goals, and reduce operating costs. For all spotting and shuttling services, Firefly delivers advanced analytics, KPI reporting, and in-depth business reviews. With nearly 75 years of combined experience in transportation, logistics, and supply chain management, the Firefly leadership team has deep industry expertise and is committed to improving clients' bottom line productivity.
About Orange EV
Kansas City based Orange EV is the leading OEM providing industrial fleets with heavy duty electric vehicle solutions that are proven to save money while being safer, more reliable, and preferred by drivers and management alike. Orange EV trucks meet the most rigorous duty cycles and 24×7 shift schedules while eliminating diesel fuel and emissions. Building both new and re-powered terminal trucks, Orange EV was the first and remains the only manufacturer offering 100% electric Class 8 vehicles that have been commercially deployed and re-ordered into container handling operations.