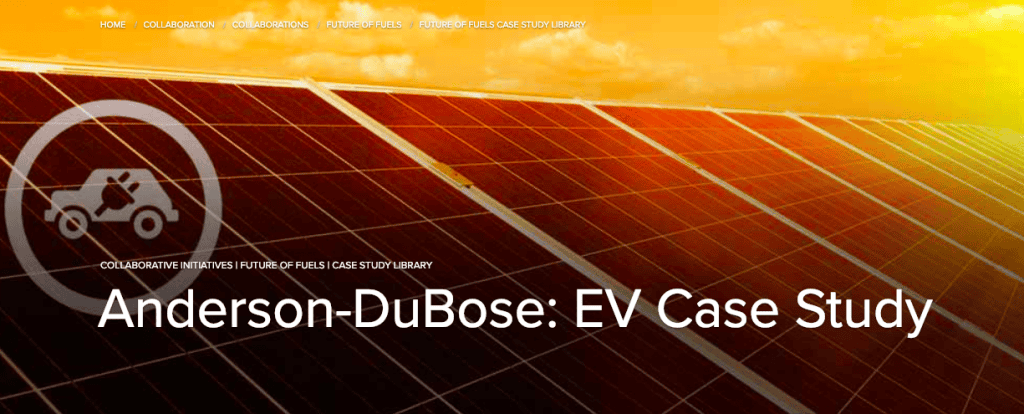 Business for Social Responsibility (BSR) recently published "Anderson-DuBose: EV Case Study" to its Future of Fuels case study library.  The case study quantifies and provides fleet testimony regarding Anderson-DuBose's experience with its Orange EV 100% electric terminal truck.  Other BSR case studies share the results of testing new technologies.  In contrast, this "case study" details the Orange EV purchase and subsequent operations over the course of a full year.  Given Orange EV's longevity in the industry and well-established track record, there was no test phase. Anderson-DuBose commercially deployed the Orange EV pure-electric to replace the one diesel terminal truck it had on site.
According to the study, "Replacing a heavy-emitting diesel yard truck with pure-electric completely eliminates that vehicle's tailpipe emissions and diesel fuel consumption, an important step in the sustainability efforts of both Anderson-DuBose and its customer McDonald's."  The Anderson-DuBose yard truck supports 24-hour moderate operations, repositioning trailers as-needed.  Excerpts from the case study:
Average Load: 50,000 pounds combined weight of trailer and cargo plus the truck itself.
Total Hours Tested: From July 1, 2017 to June 30, 2018, this truck put on about 1,654 "key-on" hours. This compares to a reported 2,200 diesel engine hours, resulting in a reduction of 546 hours (about 25%), reducing idle operations and associated emissions and fuel cost.
Fuel Premiums/Savings Percentage: The net fuel savings were ~88% of what was previously spent on diesel fuel. Charging the truck cost about $1.83 per day, compared to about $15.80 in diesel fuel.
Maintenance Premiums/Savings Percentage: Savings in maintenance is estimated at about $7.61 per day. Add to this the avoided costs related to emission control and reduced repair cost.
The bottom line Q&A:
Will You Include this Technology in Your Fleet? Yes
Additional Comments: It's a well proven technology, both in our fleet and others, that meets all of Anderson-DuBose's objectives far better than other vehicles options.
Would You Recommend this Technology for Other Fleets or Applications? Yes
Additional Comments: …Based on meeting objectives in sustainability, performance, and ROI, Anderson-DuBose recommends fleets deploy this type of EV units. The EV's electric terminal truck fully met performance objectives. Deployment and training were relatively simple and there have been no challenges. The truck does the job, while eliminating diesel and all tailpipe emissions, and dramatically reducing operating costs. Anderson-Dubose has recommended continued deployment of this type of electric terminal trucks.