Meeting the needs of truckers while reducing impacts on local community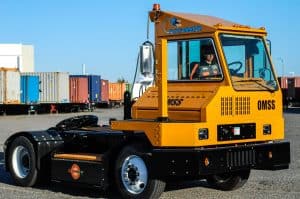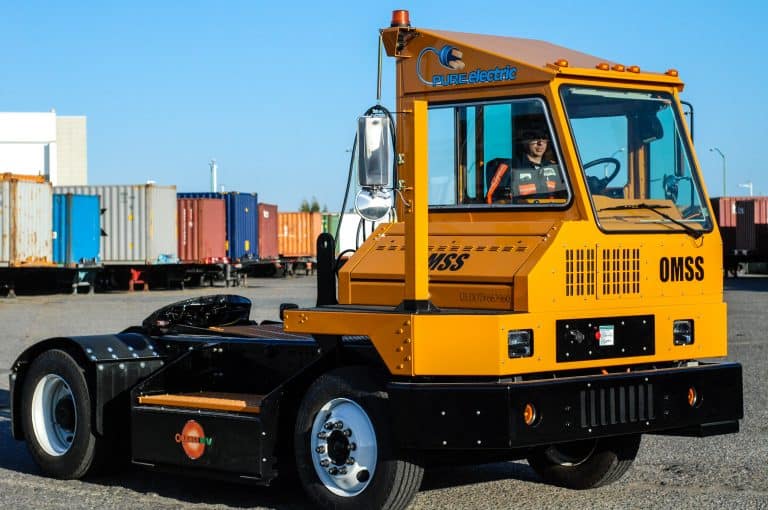 KANSAS CITY, MO and OAKLAND, CA, June 26, 2018 – Orange EV and Oakland Maritime Support Services (OMSS) today announced the deployment of an Orange EV T-Series pure-electric terminal truck to its operations serving the Port of Oakland, the San Francisco Bay Area's largest seaport and 5th  busiest in the U.S.  Through this deployment, OMSS will eliminate yard truck emissions, better serve the port drayage trucking fleet, and reduce the impacts of trucking within West Oakland.
"OMSS is now operating the first commercially-deployed, 100% electric Class 8 truck in the Port of Oakland," said Mike Saxton, Chief Commercial Officer for Orange EV.  "Bill Aboudi is community leader and staunch advocate for alternative fuel technologies.  Many fleets continue to purchase diesel, but OMSS chose Orange EV's pure electric."
Aboudi is inviting interested fleets to visit OMSS, see the Orange EV truck, and understand its capabilities. "The technology is here, it does the job, and is ready for prime time right now.  We understand that people need to see it to believe it, so we'd welcome those interested to call and come visit. We love showing off the truck."
OMSS provides parking and services for truckers who move containers to and from the Port of Oakland, thereby alleviating street congestion in West Oakland.  To further reduce the impacts of truck activity within the community, OMSS has continued to add services.  The new OMSS Center, expected to be complete within two years, will expand current offerings while adding office space, food services, truck scales, a trans-load facility, and more.
"The OMSS mission is a community mission," said Bill Aboudi, President of OMSS. "We strive to serve the trucking community while also significantly reducing emissions, noise, and truck activity in West Oakland.  We're proud to work with the City of Oakland on this valuable project, and grateful for the ongoing support from Council members Lynette Gibson McElhaney and Rebecca Kaplan."
Brian Beveridge, Co-Director of the West Oakland Environmental Indicators Project, commented, "It's exciting to see the zero emissions revolution finally getting a foothold at the Port of Oakland, and we are proud that a good friend of the community like Bill is taking the lead with Orange EV's technology. Every diesel engine that is replaced with electric is a step toward a cleaner and healthier community in West Oakland."
OMSS uses terminal trucks to move and pre-stage containers for truckers utilizing OMSS facilities.  Before purchasing the Orange EV truck, OMSS researched alternatives. "We looked around, but other electric trucks were too heavy, couldn't meet our operating requirements, or weren't ready for market," stated Aboudi. "The yard hostler is critical to our operations, so we naturally wanted to go with the industry leader.  That's Orange EV.  They specialize in electric hostlers and it shows.  The Orange EV truck looks the same, acts the same, and does the same job as our current hostler, but is much easier to operate and maintain, and has zero emissions."
Orange EV's battery-electric terminal trucks have torque on demand, smooth acceleration and deceleration, low noise and vibration, and can be built in multiple configurations to meet site-specific needs and duty cycles.  Fleets report significant savings from reduced maintenance, repair, and downtime.  Orange EV's powertrain has far fewer parts than diesels and is largely maintenance-free. Depending upon operation, Orange EV trucks can run more than 24 hours on a single charge.
"In early use, the battery never dropped below 85%," said Aboudi.  "The Orange EV truck is very easy to charge, and drivers plug in whenever the truck isn't in use.  With our operations, we can use it 24/7 with no problems whatsoever."  Aboudi continued, "The support we've received from Orange EV is unparalleled. The sales team was thorough and responsive, explaining the technology, working to understand our operations, and ensuring the truck was spec'd properly.  And since we don't have personnel to service our hostler, we need and appreciate our local Orange EV service technician."
OMSS utilized funding from the Hybrid and Zero-Emission Truck and Bus Voucher Incentive Project (HVIP) to purchase their Orange EV truck.  "Every incentive program should be like HVIP," commented Aboudi. "It's a simple process that gets new technology deployed quickly without burdening fleets with a lot of paperwork." HVIP is currently open, offering incentive amounts of up to $175,000 per Orange EV terminal truck.
About Oakland Maritime Support Services
Oakland Maritime Support Services (OMSS) is a truck parking and services facility for the 8,000+ trucks moving to and from the Port of Oakland on a daily basis.  OMSS is currently modernizing, expanding, and relocating their existing facility to a 15-acre parcel at the former Oakland Army Base, further reducing the impact of truck activity in the West Oakland community.  The new OMSS Center will be a one-stop service destination for trucks at the Port of Oakland, providing auto and truck fueling stations, parking, container storage, truck scales, trans-load facility, a convenience market, restaurant food court, office space, and other services.  The OMSS Center will be a "green" state-of-the-art trucking services facility showcasing clean energy alternatives including a biodiesel fueling station.
About Orange EV
Kansas City based Orange EV is the leading OEM providing industrial fleets with heavy duty electric vehicle solutions that are proven to save money while being safer, more reliable, and preferred by drivers and management alike.  Orange EV trucks meet the most rigorous duty cycles and 24×7 shift schedules while eliminating diesel fuel and emissions.  Building both new and re-powered terminal trucks, Orange EV was the first and is still the only manufacturer offering 100% electric Class 8 vehicles that have been commercially deployed and re-ordered into container handling operations.