Delivering a return on investment while reducing carbon footprint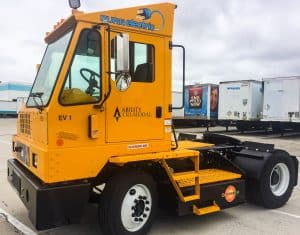 KANSAS CITY, MO and CARSON, CA, June 20, 2018 – Orange EV and Ability Tri-Modal Transportation Services today announced the deployment of five (5) Orange EV T-Series pure-electric terminal trucks to three of Tri-Modal's warehousing and distribution facilities, a combined 750,000 square feet of warehouse space close to the Ports of Los Angeles and Long Beach.  Continuously seeking versatile solutions and operational excellence, Ability Tri-Modal has deployed the heavy-duty electric trucks to reduce carbon footprint while decreasing costs. "The Orange EV trucks are a solution-based purchase," said Greg Owen, owner and Head Coach of Ability Tri-Modal. "They're going to give us a return on investment."
"Ability Tri-Modal is a clear leader and innovator in clean transportation" said Mike Saxton, Orange EV's Chief Commercial Officer.  "It's been an honor to work with Greg Owen and his team to put in service the first commercially-deployed, 100% electric Class 8 trucks directly supporting the California ports of Los Angeles and Long Beach."
Ability Tri-Modal uses ten terminal tractors for yard management, which operate up to 20 hours per day, five days a week.  Said Owen, "The yard truck is the hardest-working piece of equipment in our fleet, and it's also the most affected by increasingly strict environmental regulation."  Bob Krug, Maintenance Director for Ability Tri-Modal, added, "With older diesels, wear-and-tear and rough use were the main issues.  With the newer ones, 90% of the problems are related to emissions control technology."
"For the last 12 years or more, we've had two or three diesels down at any one time," Owen stated.  "We needed a solution, and until Orange EV, no one had answers."
In their ongoing search for an economic, reliable alternative to diesel, Tri-Modal began tracking electric yard truck development.  According to Owen, "Initial port demonstration projects were disappointing due to the early technologies.  We then spoke with fleets that have been heavily operating Orange EV trucks for years, proving that Orange EV's newer technology does the job. These fleets indicate that downtime is minimal, maintenance and fuel costs are reduced, and Orange EV is committed to both their customers and ongoing product development.  Orange EV provides a solution to the increased costs associated with diesel equipment."  Moderate-use sites report annual savings of $30,000 per Orange EV truck in fuel, maintenance, and emission control related costs; heavier-use sites can save much more.
With five electric yard trucks managing trailers at multiple Tri-Modal facilities, Krug concluded, "The Orange EV trucks have been perfect, going above and beyond expectations.  We've had no issues and the drivers love them."
The Orange EV deployment is just the latest initiative in Ability Tri-Modal's efforts to "think green" like the Port of Long Beach, operating as efficiently and sustainably as possible.  The company has been honored on multiple occasions by the Ports of Los Angeles and Long Beach for early adaptation to the ports' Clean Trucks Program, and operates a 100% clean truck fleet, in compliance with rigorous port and state requirements.  Looking to the future, Tri-Modal plans to install solar panels to charge its growing fleet of electric equipment with electricity generated on-site.
Ability Tri-Modal utilized funding from the Hybrid and Zero-Emission Truck and Bus Voucher Incentive Project (HVIP) to purchase their Orange EV trucks. HVIP is currently open, offering incentive amounts of up to $175,000 per Orange EV terminal truck.
About Ability Tri-Modal Transportation Services
Ability Tri-Modal Transportation Services specializes in in trans-loading, consolidation and de-consolidation, warehousing, retail delivery, and a variety of value-added services.  With operations in Carson, California and Ladson, South Carolina, Ability Tri-Modal is a proven, award-winning transportation company that is rooted in its devotion to superior customer service.  The company continuously meets and exceeds expectations through highly versatile customer solutions, operational excellence, and results-driven attitude.  Ability Tri-Modal's motto, "Service Above Self" fuels the passion, innovation, and mission to execute measurable benefits to the customer.
About Orange EV
Kansas City based Orange EV is the leading OEM providing industrial fleets with heavy duty electric vehicle solutions that are proven to save money while being safer, more reliable, and preferred by drivers and management alike.  Orange EV trucks meet the most rigorous duty cycles and 24×7 shift schedules while eliminating diesel fuel and emissions.  Building both new and re-powered terminal trucks, Orange EV was the first and is still the only manufacturer offering 100% electric Class 8 vehicles that have been commercially deployed and re-ordered into container handling operations.