As featured in FleetOwner.
Yard tractors are already proven EV applications for companies looking to bolster or start their sustainability movements. Drivers are taking to the quieter, smoother, zero-emissions vehicles that can quickly fit into 24/7 operations.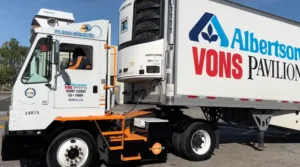 Most corporations are looking more seriously at sustainability than ever before. But in the trucking industry, still dominated by fossil fuels, it can be tough to know where to start. Some fleets are not looking at over-the-road operations—they're finding early zero-emissions victories in their yards.
Albertsons, the second-largest grocery chain in the U.S., is finding sustainability success since it began using battery-electric terminal tractors at some of its 19 terminals. The EV yard tractors prove to be one of the best ways for fleets to test how alternate-powered Class 8 vehicles could fit into operations.
"As part of Albertsons Companies' commitment to cut down on carbon emissions, we are working to replace our diesel terminal truck fleet with EV terminal tractors, when possible," Tim Burke, the private fleet's VP of transportation, told FleetOwner. "We currently have 11 EV terminal tractors with plans to purchase seven more this year."
Albertsons' 120 diesel-powered terminal tractors will still outnumber the 18 EV yard tractors it expects to have by 2023. But that is not likely to last long, according to two recent industry studies that note how yard tractors are prime equipment for electrification.
"These conversions are happening now—and it's happening rapidly," Zack Ruderman, VP of sales and marketing for Orange EV, said. "We're investing to significantly increase our production capacity to more than double this year versus last year."
Albertsons is one of Orange EV's more than 100 fleet customers across the U.S. Ruderman told FleetOwnerhis company, which just celebrated its 10th anniversary, has nearly 400 tractors in operation. That number is expected to grow after a North American Council for Freight Efficiency (NACFE) study highlighted the potential efficiency of EV yard tractors.
An EV opportunity for fleets
"We acknowledge that electrification can be difficult, especially in the Class 8 market," Mike Roeth, NACFE's executive director, said. "But right now, the electrification of terminal tractors makes sense and is a good place for fleets to begin their electrification journey."
NACFE recently released the first of four trucking market segment reports from its Run on Less—Electricfreight efficiency study. The council found "terminal tractors one of the best, if not the best, paths for heavy-duty tractor fleets to learn about and implement a BEV in a fleet operation."
The Use Case for Terminal Tractors from NACFE on Vimeo.
Along with the environmental benefits and reduced maintenance costs of EVs, NACFE noted that the electric terminal tractors provide a better workplace for drivers because they're quieter and smoother than the diesel versions.
"We have received positive feedback from our drivers, saying that they prefer the modern technology of the BEV yard spotters," Albertsons' Burke said. "They like that these EV terminal tractors improve uptime, do not require fueling, and there's less preventive maintenance. They also appreciate that they are quiet, cool, and odorless."
BEV terminal tractors can also be used inside warehouses with no emissions—not just yards, NACFE noted. And maintenance costs for the BEVs can be 60% to 75% less than diesel-powered terminal tractors built after 2017.
The stop-and-go nature of terminal work also offers regular opportunities to recharge. "Terminal tractors provide a good use case for electrification because they operate in low mileage applications and can opportunity charge throughout the day while drivers are on breaks," said Kevin Otto, lead author of the report and NACFE's electrification technical lead.
Burke explained that is a big part of the early success Albertsons has found in its yards. "We have seen positive results in the transition to EV terminal tractors," he said. "For example, since we run a 24/7 operation, opportunity charging has made the transition so easy and convenient since the EVs do not require dedicated charging times."
Albertsons uses opportunity-charging as part of its standard operating procedure for its drivers, based on Orange EV's recommendation to maintain an optimal state of charge. "We refined it based on employee feedback after deployment with charging occurring between shifts, during breaks, and meal periods," Burke added.
Terminal EV conversion forecasts
"If you look at the market in general, the EV technology that is here now—and is very good—is that yard tractor application," Al Barner, SVP of strategic fleet solutions at Fleet Advantage, told FleetOwner. "You've got the power source right there where the trucks operate. From drivers' acceptance, they love them because there's less noise. They're more comfortable. It's a good application—and you've got the opportunity-charging."
Fleet Advantage is a truck fleet business analytics, equipment financing, and asset lifecycle cost management company. With today's supply chain problems delaying new vehicle deliveries, it is crucial to know how fleets manage their equipment and plan for the future. Part of that future planning Barner has seen more of is how to make terminals more sustainable for the environment and fleet employees.
An ACT Research report on commercial vehicle electrification found that EV yard trucks can provide a better TCO than diesel tractors. The same "Charging Forward" study forecasts that yard EV adoption rates could top 50% by 2024.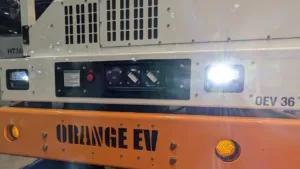 "The technology advances are what's increasing adoption," Ann Rundle, VP of electrification and autonomy for ACT Research, said during ACT's Seminar 66, held in February in Columbus, Indiana.
While noting that government regulations have pushed some trucking operations toward EVs in recent years, Rundle said battery technology gains over time would exceed regulatory influences on fleets. "Battery costs are falling as the volumes increase," she said. "Another thing is battery energy density has been improving over time."
A vehicle battery in 2022 has about three times more power density than the same sized battery in 2012, said Rundle, who was the principal author of the ACT Research study released in December. "So that means either three times more range, one-third less size pack, or you pick how you want to do it. This isn't theoretical; it is getting better and proving to be better."
The ACT study forecasts all Classes 7 and 8 tractors in the U.S. to be 30% electric by 2030. But Orange EV's Ruderman said terminal tractors could be closer to full conversion then. "There are a lot of reasons why terminal tractors are an easier EV integration," he said. "When you talk to fleets about EVs, one of the main concerns is range anxiety: What's going to happen when I'm out on my route and I need to charge, or I was stuck in traffic, or a different route had more hills that consume more energy, and I'm afraid I can't get back to home base to charge."
Since most terminal tractors never leave the yard, they are never far from a charging station, Ruderman noted. So opportunity charging, like what NACFE laid out in its study and Albertsons is putting into practice, is enough time to keep a yard EV running in a 24/7 operation.
Add in that regenerative braking also charges the tractor. "It turns the frequent starts and stops in the yards into an advantage," Ruderman said.
Starting in the yard
For fleets interested in getting started or increasing their sustainability efforts, the terminal is a prime place to start. "If you look at the EV market, technology at the yard tractor level is here today and it's performing well," Fleet Advantage's Barner said. "Expanding that technology out to the regional final mile will be the next step."
It was a great place to start for Albertsons, which has 1,400 Class 8 trucks nationwide and its private fleet employs 2,500 drivers. "Fleet sustainability remains top of mind every year as we plan for capital for fleet equipment and infrastructure improvements, as well as foster employee satisfaction," Burke explained.
The company has more than 1,700 stores in 34 states and the District of Columbia. Along with Albertsonsgrocery stores, the company's food and drug retailers include Safeway, Vons, Jewel-Osco, Shaw's, Acme, King Food Markets, and Balducci's.
"Albertsons Companies is committed to integrating sustainability into our everyday business decisions, and that includes reducing emissions within our own operations and our supply chain to help tackle climate change," Burke said. "We strive to lower our emissions in many ways such as improving fuel efficiency in our trucks, switching to LEDs that use less electricity, and harnessing renewable energy such as wind and solar."
Its over-the-road tractors are all certified by the U.S. Environmental Protection Agency's SmartWay program for meeting highway transportation sustainability and efficiency standards. "We will continue to explore, pilot, and purchase zero-emission and alternative fuel on-road tractors and refrigeration units for a more sustainable fleet profile while maintaining operational output and deployment across the network, when feasible," Burke added.
Despite supply chain problems plaguing some manufacturers, Ruderman said Orange EV delivers tractors and chargers about 90 days after orders. The OEM has fleet customers in 24 states and expects its market saturation to grow this year.
"The broader message is that EV yard trucks are proven," Ruderman said. "It's past the experimental stage. We have almost 400 of them in the market across 100 different fleets, different duty cycles, and different parts of the country—in warm weather, in cold weather. The time is now to have that conversation about where to start."
Published: April 6, 2022/FleetOwner/