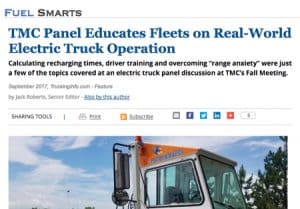 DHL Supply Chain, along with Orange EV, Workhorse Commercial Trucks, and Ryder System, recently gave a panel presentation at the Technology & Maintenance Council's (TMC's) Fall Meeting. The panelists presented potential challenges facing EV owners, addressed implementation, and shared their experiences with electric vehicles.
This article from HDT Truckinginfo outlines DHL Supply Chain's experience with Orange EV's 100% electric yard trucks:
Dave Williams, operations director for DHL Supply Chain, outlined his experiences using two all-electric yard tractors during evaluation testing, noting that his trucks are in operation approximately 21 hours a day. "We have had no issues with the operation of our electric trucks at all," he added.

Williams said one pleasant surprise at the beginning of DHL's electric truck initiative was the grant process to secure government subsidies. "When we sought grant money to test CNG-powered trucks, the application process was complicated and lengthy," he said. "Getting getting EV grant money application process together much easier. In fact, it took less than a week."

Williams said driver training was a key component in putting the electric trucks in service, but added that that overall the operation of the trucks is "very straightforward" with few unfamiliar procedures. "For us, training was more about overcoming the 'fear factor' drivers had with the new vehicles," he said. "The bulk of the training focused on understanding charge-state indicators as well as vehicle recharging features."

DHL Supply Chain's electric truck evaluation is still ongoing. But Williams said he was confident that a "conservative" estimate has the two electric yard tractors saving $40,584 per year compared to diesel units. "All in all, this has been an extremely positive experience for us," he added.