R&E replaces diesel with zero-emission Orange EV electric, further enhancing public health and the environment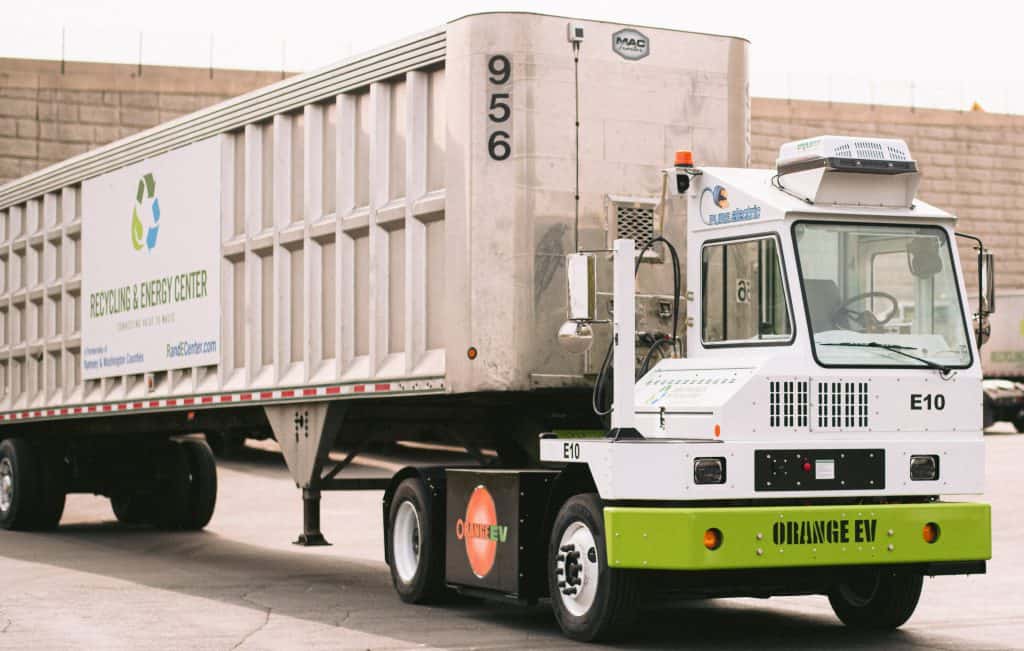 KANSAS CITY, MO and NEWPORT, MN, November 10, 2020 – Ramsey/Washington Recycling & Energy (R&E) and Orange EV today announced the deployment of an Orange EV T-Series pure electric terminal truck to the Recycling and Energy Center (R&E Center) in Newport, Minnesota. Replacing a diesel truck with all-electric aligns with R&E goals to enhance public health and the environment and to create vibrant, healthy communities without waste.
R&E's Orange EV electric yard truck moves material at the R&E Center, which manages more than 450,000 tons per year, processing trash from two counties to both recover recyclable metals and make fuel for producing electricity, thereby diverting material from landfills and maximizing resource recovery.
"Orange EV appreciates our partnerships with operations like Ramsey/Washington Recycling & Energy who are forward thinking and create a healthier environment now with investments that will continue to deliver benefits for years to come," commented Wayne Mathisen, Orange EV Chief Executive Officer. "Orange EV's quiet, safer, emission-free trucks are not only healthier for site personnel and the community, they've also been proven by more than 80 fleets across 15 states and Canada to have lower operating costs and reduced downtime."
Replacing R&E's diesel yard truck with Orange EV electric will eliminate an estimated 675 tons of carbon dioxide over 10 years of operation, equivalent to the greenhouse gas emissions from a passenger vehicle driven more than 1.5 million miles. Removing a diesel truck also reduces material waste by eliminating diesel fuel, exhaust fluid, particulate filters, oil, glycol, and other products necessary for diesel maintenance and operation.
"Electric vehicles are consistent with our goals related to health and environment, and staff are pleased with the functionality of the truck. We hope to purchase more. If others are interested in transitioning away from diesel trucks, we'd be happy to talk with them about our experience, which has been entirely positive," said Sam Holl, R&E Interim Co-Facility Manager. Site personnel report the Orange EV truck is quiet and easy to operate, provides immediate power, and requires less maintenance.
Partial funding for this project was provided by the Minnesota Pollution Control Agency (MPCA) through the Diesel Emissions Reduction Act (DERA) grant program. DERA aims to improve air quality and public health by providing funding for projects that reduce diesel emissions from older diesel engines.

About Ramsey/Washington Recycling & Energy (R&E)
Ramsey/Washington Recycling & Energy (R&E) operates through a public joint powers board and is the organization through which Minnesota's Ramsey and Washington counties collaborate to achieve environmental, economic, and social benefits through innovative and responsible waste management. R&E administers programs aimed at preventing waste and increasing recycling. Additionally, R&E owns and operates the R&E Center, where all trash from residents and businesses in the two counties is processed to recover value. R&E's vision is "vibrant, healthy communities without waste."
About Orange EV
Kansas City based Orange EV is the leading OEM providing industrial fleets with heavy duty electric vehicle solutions that are proven to save money while being safer, more reliable, and preferred by drivers and management alike. Orange EV trucks meet the most rigorous duty cycles and 24×7 shift schedules while eliminating diesel fuel and emissions. Building both new and re-powered terminal trucks, Orange EV was the first manufacturer offering 100% electric Class 8 vehicles to be commercially deployed and re-ordered into container handling operations. Orange EV's commercially deployed trucks, chosen by more than 80 fleets across 15 states and Canada, have surpassed a combined 636,000 key-on hours and 2 million miles of operation.