Pure Electric Terminal Trucks
The Orange EV T-Series pure electric terminal truck will be showcased at Booth #353 in the exhibit hall.  Stop by to meet the Orange EV team, do a walk-around tour of the truck, and hear the latest breaking news – we have exciting developments we can't wait to share!  And at the Ride & Drive on September 1st, hop in a truck to experience the Orange EV difference for yourself.
Drop by Booth #353 any time, or to schedule a meet, please complete the form below.  See you there!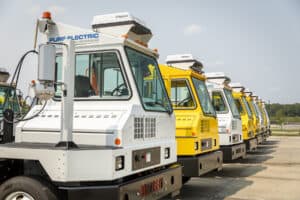 Our star team attending:
Wayne Mathisen
Co-Founder & CEO
Kurt Neutgens
Co-Founder, President & CTO
Zack Ruderman
VP Sales & Marketing
Tim Sweetnam
National Account Director
Rich Carroll
National Accounts Sales
Martin Abbott
Western U.S. Sales Team Manager
Andrew Coulombe
Technical Sales Lead
The EV truck of choice
"…we chose to partner with Orange EV, the manufacturer with the best track record and most developed product. They aren't a diesel company building electric yard trucks. Orange EV is an electric yard truck company building electric yard trucks. The difference is clear."
"The yard hostler is critical to our operations, so we naturally wanted to go with the industry leader. That's Orange EV. They specialize in electric hostlers and it shows."